To Ana:
There are simply no words to express my heartfelt thanks for all you have taught me. Your support and guidance will be forever in my thoughts whenever I sew and the knowledge you've shared will be sewn into every stitch. You are the best!!
Thanks
Tania Jobson (September 2019)
---
Dear Ana,
Thank you very much. I learnt a lot and gained confidence on sewing from your excellent teaching. You are a great teacher.  I would love to learn more from you. Surely I will enrol for more lessons in next year.
Champa Rajapakse.  (August 2019)
---
I would like to say thank you to you for everything you have done for me throughout the year. You are always willing to give up your time to answer my numerous and sometimes silly questions, (even outside of lessons) and for that I am hugely grateful. You are a fantastic teacher and I plan to learn all I can from you, in the hope that one day I can be as good a seamstress and teacher as you are.
Have a fantastic, well-deserved break and I look forward to catching up in the New Year.
Regards,
Gemma Thebault
15 November 2018
---
Hi Ana,
Thank you for your lovely email, I too have really enjoyed your Saturday morning classes and feel like I have learnt so much you're a great teacher and have such a wealth of knowledge which you readily share. And of course I enjoy everyone's company and their love of fabrics and sewing.
I will definitely be there next February and look forward to joining you and the other ladies once again on our Saturday mornings
Leigh Hattin
---
Hi Ana,
Deborah and I would like to thank you for all your assistance and instruction. We enjoyed the time spent with you immensely and we have improved our sewing skills greatly. We also enjoyed meeting and spending time with the other participants.
We hope to be back in 2019.
Regards
Beth and Deborah
---
I have sewn clothes for myself for over 60 years having started at 8 years old with my Mum and later in school and I have always had trouble getting a good fit.  Now I know why.
Ana, you have worked wonders and taught me so much. When I started the course I was so confused and just couldn't 'get it'.  But, your patience and knowledge won thru.
You taught – I learned and now I can make outfits to fit me.  Not just one item fitted and sewn – 4 different items. 1 skirt, 1 pair pants, 1 dress and 1 jacket and now  the 4 items I made will turn into a complete wardrobe….This is a course with so much extra knowledge.   Ana's expertise is so expansive and she gives so freely.
I recommend this course to everyone who makes clothes.  You won't be disappointed.
Fit for Real People – November 2017 Class
Lesley Moynahan
---
This year I have completed the basic sewing classes right through to the advanced class with Ana. The classes were really great, full of fantastic tips and Ana taught you all the correct techniques to get professional looking results from your sewing. I have also just completed the Fit for Real People class which gave really great insight into how to alter commercial patterns to fit yourself, I have gained so much knowledge with this class and it has helped to improve the outcomes of my sewing immensely. Thank you Ana for all your help and the knowledge you imparted during all the courses I have completed. Absolutely loved doing the classes each week.
Julie Bellas – Fit for Real People
---
Ana has taken me for a journey of discovery on why no store brought clothes fitted me.
For years I have been trying to alter commercial patterns to fit my shape without the basic understanding on what I was doing and how what I was doing and how that affected the rest of the garment and how short the commercial patterns alteration lines are for real women.
In 5 lessons I am more confident that I have a basic understanding of what to do, and the knowledge to try different methods to get that fit I have always desired and always fell short.
As a compliment to Ana and her skills to read me like a book, I think nothing more has to be said other than on the last class, when I was wearing my shift pattern cut down to a top, everybody thought I had lost heaps of weight, but what really was the difference is that I was wearing something that fitted my body. That is the power of a good fitting garment.
Thanks heaps Ana.
Rosyln Murray
Fit for real people course
Nov 2017
---
Fit for Real People was a truly fantastic course. After just 5 weeks Ana was able to impart a huge wealth of knowledge. This included how to tissue fit a commercial pattern, identifying both body shape and fitting issues, leading onto how to alter the pattern so it fits perfectly. It has been great to understand the specifics of what to do when a pattern doesn't fit and I now have the confidence to make changes unassisted.
After working on a basic dress, princess line dress, pants and skirt pattern I now also have 4 perfectly fitting patterns to use again and again. I can not recommend this course highly enough.
Gemma Thebault
November 2017
---
"Fit for Real People" was an amazing workshop. Ana's expertise in fitting a wide variety of shapes and sizes is amazing. I now have a darted blouse with a perfectly fitting set-in sleeve, a princess line jacket, a skirt and trousers patterns that actually fit me, and that I can use to design different garments, ensuring a perfect fit. Best workshop I have ever been to. Looking forward to doing the Tailoring workshop next year. Thank you, Ana.
Lyn Kenny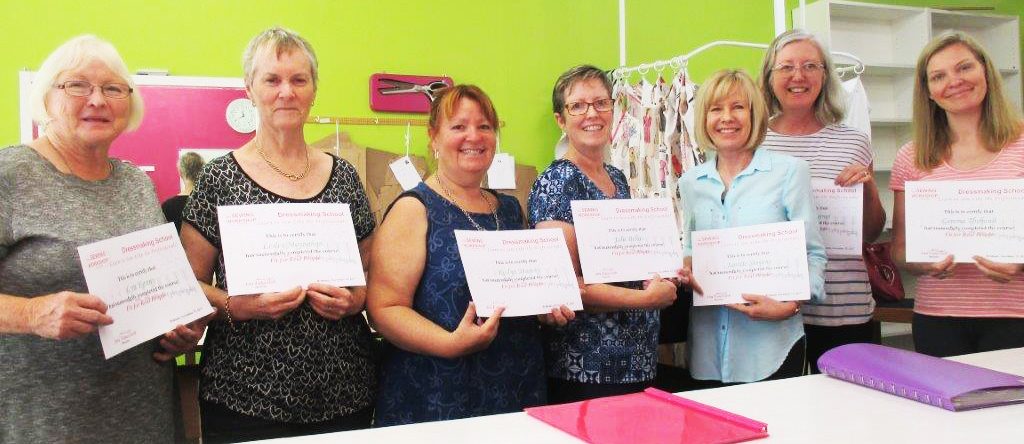 ---
"Pattern making for fashion, it was everything and more I had hoped for in an intro to pattern making. Ana was an amazing teacher and in a short time has given me enough tools to tackle so many designs. I left the course itching to try out everything that I had learnt."
I really did enjoy the course Ana. You helped me to realise how much I have there is to learn.
But I look forward to strengthening all these skills.
Thanks so much!
Isobel
---
I've been attending Ana's dressmaking classes for around a year and half now, and I can honestly say they are the highlight of my fortnight.
The skills she has taught me are incredible and I love the feeling of starting from nothing and finishing with a beautiful garment that actually fits! She is a brilliant teacher and takes so much time to ensure every student understands the entire process – whether they are beginners or advanced!
Thank you so much Ana!'
Karyn Paterson
---
Ana is a warm, understanding and passionate teacher with a world of knowledge in her back pocket.
She is very welcoming, I always felt very comfortable and at home during class time.
Ana is a remarkable problem solver and was willing to have a go at my designs. I learnt more from Ana than my previous teachers, Ana is very helpful and I could see that she genuinely wants to see her students improve their skills, she has so many useful techniques to share.
I can at times be a slow learner and Ana was always very patient with me. I hope to return to more lessons with Ana in the future, her classes are most enjoyable.
Thank you Ana for being such a beautiful teacher.
Tammie
---
I found that the classes provided all the important foundations for a life long skill in sewing which is priceless. Ana is very personal and dedicated with her teaching. I will be back for more valuable lessons in continuing to build up my quality sewing techniques instilled by Ana.
Emma Burke
---
"When I started attending the Sewing Workshop for lessons, I did not know how to thread a sewing machine, let alone sew! I was not even sure that I'd enjoy it, as all my sewing experiences in the past had not been too successful!
I have been attending the Sewing Workshop for 4 years now, and needless to say, have learnt a wealth of information! I started with sewing basic pajamma shorts, and progressed on to more in depth projects like fitted skirts with zippers, dresses, and fitted tops. I've just recently sewn some mens shirts for a wedding and have been greatly encouraged with how far I have come since I first began.
These classes are great for learning if you are just starting out, if you know nothing about sewing, or if you've sewn all your life and you want to fine tune your skill.
These are good quality classes with a genuine, patient teacher who is willing to teach you and help you at all times!
I can recommend these lessons for all ages, no matter what knowledge you do or don't have, you can always learn something!
You even receive a certificate after each level you complete which is quite rewarding!"
Bernice Stirling