ABOUT THE SCHOOL
OUR TEACHERS: Ana is supported by Industry trained teachers mentored by her.
Gemma  Thebault
Gemma started sewing from a young age, later turned a hobby into a passion. Gemma completed many of the Industries toughest courses, most with the support and guidance of Ana at The Sewing Workshop including Dressmaking Courses, Fit for Real people, Patternmaking I and II , Stretchwear ,Bramaking, How to reproduce your Favourite Garment and our master courses like Secrets of the Trade.
A School Teacher by trade, Gemma has a patient and understanding approach to helping you meet your sewing goals. Also Gemma is the founder of the Haberdashery business on line SewingGem.com.au  , Which we recommend and support. Well done Gemma!.
Jean Beckingham
Jean has spent a lifetime pursuing her interest and skills in Fashion. She has an excellent taste in Fashion, Fabrics, colours, styles and embellishment with a special interest in the classic styles of the European fashion houses.
Jean had undertaken many years of tuition under Ana's expert guidance in Drafting, Dressmaking and Tailoring. Now Jean is extending further her skills in Couture and Tailoring recently attending courses in London in Tambour beading, as well as Tailoring with a Savile Row Tailor.  She is currently developing her skills in millinery.
One of her skills is knowing well the fabrics to buy and to merry perfectly with the design. Jean travels frequently to select and buy   her fabric overseas: New York, London and Italy for her exclusive wardrobe. She is a couturier teacher with very nice personality and beautiful clothing sewing by herself of course nothing to envy to Coco Chanel, Gucci, Valentino, Balenciaga between others.
After 8 years, Jean is still attending The Sewing Workshop to refine her skills. You will be lucky to have her as a teacher.
Christine Dowling
Christine took Dressmaking and Needlework as a subject in high school and have been sewing since the age of 11. After finishing school, she completed 4 years of Dressmaking at TAFE : Diploma of Fashion.
Since commencing at The Sewing Workshop 8 years ago, she has completed Patternmaking 1 and 2, Secrets of the Trade, Alterations, Dressmaking courses, Stretchwear . She is expert in Tailored pants, construction, fitting and sewing.
Christine is a perfectionist sewer and learning from her will be a real bonus for your sewing  skills.
Courtney Hansen
Young, beautiful and talented. Courtney just graduated as a Fashion Designer with an Advanced Diploma of Applied Fashion, Design and Merchandising at MT Gravatt TAFE.
In year 11, Courtney started studying Dressmaking with Ana. That knowledge and experience allowed Courtney not just entry to TAFE, but excel in all subjects, and winning the Pam Roberts Memorial Scholarship, due her vast knowledge in Patternmaking and constructions skills.
This year, 2019, Courtney completes 4 years learning with Ana, as she continues perfecting her skills in design, patternmaking and sewing at the highest level on Saturday mornings.
This brilliant girl with a nice and gentle personality is taking over teaching our teenage students.
HELEN WARD
Helen has completed many courses at TSW : Patternmaking for fashion Design level I and II ; Advanced Dressmaking ;Tailoring ; Bra-making ; Fit for real people ; Secrets of the Trade, and Teacher Training. She is a dressmaker for Alter to Fit, specializing in for formal and wedding dresses, and also, works as teacher for The Sewing Workshop. She has more than 40 years experience of sewing as a hobby.
OUR STUDENTS: our best advertising
Since 1996, The Sewing Workshop™ have had more than 4,000 satisfied students. Our reputation for excellence has stretched a fair distance, with student not only coming from all parts of Brisbane, but spanning from further reaches like; Sunshine Coast, Gold Coast, Gympie, Ipswich, Toowoomba, Twin heads, Ballina and even Lismore. They have often said that, it was worth every kilometre of their trip, and we thanks all of them for their preference.
Their success is our success!!
We witness with a lot of pride, that our students excel in what they learn, and some of our students had used what they learn at The Sewing Workshop™ made the Sewing a source of income, and now they are:
Sewing for themselves and the family.
Doing Dressmaking made to measure at home as a business.
Set up Clothing Alteration businesses.
Working as Patternmakers.
Have their own label and selling on markets and on line.
Making patterns and selling by internet.
Set up a Dressmaking School (in Melbourne).
Teaching Home Economics at Schools.
Teaching at The Sewing Workshop.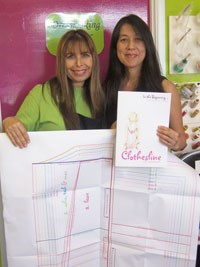 We teach to an industry standard, and "OUR PASSION IS TO TEACH OUR STUDENTS HOW TO SEW LIKE THE PROFESSIONALS"
Who are our students?
The next Project Runway generation – from 10 years old
Home sewers, sewing for their families or themselves. All ages, ladies and men
The career focused: People who want to take further studies in fashion
Home-Economics Teachers who want to improve and update their sewing techniques
Fashionistas working within the Fashion Industry
People who want to make Dressmaking or Patternmaking a source of income
People who want to set up their businesses in Clothing Alterations
FROM BEGINNERS TO ADVANCED STUDENTS, ALL ARE WELCOME!
PATTERNS USED FOR DRESSMAKING LESSONS
In every level you have the choice of 5 to 7 commercial patterns for each project. These patterns were selected accordingly with the topics to be learnt at the course level you are studying. If you wish to know your projects, ask to send the booklet by e-mail.
By using commercial patterns, you will learn:
– How to select your correct size
– Learn why and how to change the pattern TO FIT YOU
– How to read commercial patterns and to read the layout.
– Learn to read the code, markings and instructions of the commercial patterns.
For students who enroll in Patternmaking I or II, we encourage them to design their garment and make the pattern in their Dressmaking classes under the teacher's supervision. So the cycle is complete: design… patternmaking…. sewing .
In Dressmaking or Patternmaking, we put special emphasis on Fitting. We do fittings for every garment. Our do a tissue fitting, and then a garment fitting in between. We teach you how to fit for real people.