ABOUT THE SCHOOL
OUR TEACHERS: Ana is supported by Industry trained teachers mentored by her.
BRONWYN CAIRNS
Bronwyn has Bachelor of Art in Fashion Design from RMIT. She taught at Box Hill TAFE, Design, Illustration, Technical drawing and Range Development, and was head designer for Surf Label on the Gold Coast. Currently is teaching different sewing courses part time for the past 8 years at the Sewing Workshop. She has 26 year of experience in the rag trade.
HELEN WARD
Helen has completed many courses at TSW : Patternmaking for fashion Design level I and II ; Advanced Dressmaking ;Tailoring ; Bra-making ; Fit for real people ; Secrets of the Trade, and Teacher Training. She is a dressmaker for Alter to Fit, specialising in for formal and wedding dresses, and also, works as teacher for The Sewing Workshop. She has more than 40 years experience of sewing as a hobby.
OUR STUDENTS: our best advertising
Since 1996, The Sewing Workshop™ have had more than 4,000 satisfied students. Our reputation for excellence has stretched a fair distance, with student not only coming from all parts of Brisbane, but spanning from further reaches like; Sunshine Coast, Gold Coast, Gympie, Ipswich, Toowoomba, Twin heads, Ballina and even Lismore. They have often said that, it was worth every kilometre of their trip, and we thanks all of them for their preference.
Their success is our success!!
We witness with a lot of pride, that our students excel in what they learn, and some of our students had used what they learn at The Sewing Workshop™ made the Sewing a source of income, and now they are:
Sewing for themselves and the family.
Doing Dressmaking made to measure at home as a business.
Set up Clothing Alteration businesses.
Working as Patternmakers.
Have their own label and selling on markets and on line.
Making patterns and selling by internet.
Set up a Dressmaking School (in Melbourne).
Teaching Home Economics at Schools.
Teaching at The Sewing Workshop.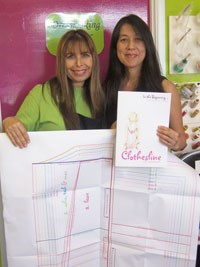 We teach to an industry standard, and "OUR PASSION IS TO TEACH OUR STUDENTS HOW TO SEW LIKE THE PROFESSIONALS"
Who are our students?
The next Project Runway generation – from 10 years old
Home sewers, sewing for their families or themselves. All ages, ladies and men
The career focused: People who want to take further studies in fashion
Home-Economics Teachers who want to improve and update their sewing techniques
Fashionistas working within the Fashion Industry
People who want to make Dressmaking or Patternmaking a source of income
People who want to set up their businesses in Clothing Alterations
FROM BEGINNERS TO ADVANCED STUDENTS, ALL ARE WELCOME!
PATTERNS USED FOR DRESSMAKING LESSONS
In every level you have the choice of 5 to 7 commercial patterns for each project. These patterns were selected accordingly with the topics to be learnt at the course level you are studying. If you wish to know your projects, ask to send the booklet by e-mail.
By using commercial patterns, you will learn:
– How to select your correct size
– Learn why and how to change the pattern TO FIT YOU
– How to read commercial patterns and to read the layout.
– Learn to read the code, markings and instructions of the commercial patterns.
For our students who enrol in Patternmaking I or II, we encourage you to design your garment and make the pattern in your Dressmaking classes under the teacher's supervision. So the cycle is complete: design… patternmaking…. sewing .
In Dressmaking or Patternmaking, we put special emphasis on Fitting. We do fittings for every garment. Our do a tissue fitting, and then a garment fitting in between. We teach you how to fit for real people.
What the Students say about The Sewing Workshop?
"Dear Anna: Thank you so much for all your help over the last two years. I enjoyed every moment of learning at your Sewing Workshop. You taught me so much, and I didn't realise how much there is to know about sewing. I have already had orders for next year doing the schoolies formals (altering their dresses at Tweed Heads). I am ready to go out in the big world now and start my alterations business and fashion design, all with the help from you Anna. Thank you with all my heart." ~ Gloria Butler.
"I achieved much more than I expected from this Patternmaking for Fashion Design Level 1. I feel good about my newly acquired ability to manipulate darts, design princess line and my favourite, "the cowl". I am looking forward to increasing my sewing skills as I work with stretch fabrics and other materials as taught in this course. Thank you Ana." ~ Karon Roberts.
"My Patternmaking for fashion design level 1 has been an amazing experience. Ana is an amazing teacher who makes sense of complicated ideas. Her knowledge is phenomenal." ~ Robyn Plant.
"Thank you Ana for your expert teaching. Patternmaking one has enabled me to develop my sewing skills to be able to deconstruct & reconstruct designs that have perfect fit & look professional. I am excited to put everything I have learnt into practice." ~ Jane Roebuck.